The Triangle's Lawn Game Specialists
Open 24 Hours | Free Cancellation | Rentals & Sales
Place an Order
What can we help you with?
Triangle Lawn Games is the leading lawn game and cornhole specialist in Raleigh, Durham and surrounding areas. Our main service is affordable daily rentals of games like cornhole, Giant Jenga and Giant Connect 4, but we have a variety of services around cornhole and custom game manufacturing to help our clients, whether it is building a sweet set of custom boards, refinishing a beat up old set or facilitating a 64 team cornhole tournament – we can help!
Rent Lawn Games For An Event
Buy Custom Cornhole and Giant Games
Learn More About Cornhole Tournaments
Repair a Set of Cornhole Boards
Lawn Game Rentals in Raleigh
Chillin' on a Saturday in your lawn with a crispy cold one is a pretty great experience. So is a wedding or corporate gathering, where folks can sit back and relax while enjoying the simple pleasures of picnicking and playing lawn games. That's why we at Triangle Lawn Games make renting lawn games affordable & easy. We offer game rentals with delivery and pickup, have a great selection of games made in Raleigh, and can handle events from 5 people to 5000. We are located in Raleigh, NC but can deliver and pickup games from anywhere in the state. Just pick your delivery option (pickup or delivery zone) and then pick your dates and games.
Delivery is based on zones so depending on where you are dictates the price.  Start the order process here. Just give us a call at (919) 891-3495 for questions, special orders or further deliveries.  Elevate your weddings or corporate events with giant games like Connect Four or Giant Jenga, or entertain friends and family by showing off your incredible skill levels, and enjoy some really fun outdoor games with our help. We also have a pro PA system for rent! We can even help make kids birthday parties more fun with Nerf Gun Rentals. Triangle Lawn Games makes the good times easy with fun games, great customer service and the best prices in Raleigh, Durham and Chapel Hill. Call us today or schedule a delivery with our easy to use online shop. 
We offer games in other markets around the country, if you are looking for games in Wilmington, NC Columbia, SC, Houston, TX,  or Greensboro/Winston-Salem we can help. Choose a location below.
Email: [email protected]
What are customers saying on Google?
"Such a pleasure to work with Gordon and Triangle Lawn Games to provide corn hole games at our wedding rehearsal event! His delivery and pick-up were exactly on time, the boards were colorful and in excellent condition, and the prices were great. Gordon answered his phone every time or immediately returned voice mails when we called during the planning process…we live several hours away from Raleigh, so efficient communication was key. We recommend them hands-down!"
Our pricing is simple – pick your delivery or pickup option, choose your dates, and pick from what's available from our many games!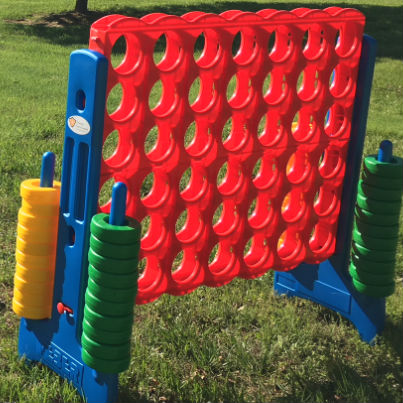 Cornhole Tournament Facilitation
Let us help run your cornhole tournament with professional boards, sound system and a proprietary automated scoring system.
Learn More
The basics to renting with us:
We would be happy to bring your games to you, and come pick them up. That service cost is depending on distance. Take a look at our delivery zones on our order page and begin your booking.
We make our games here in Raleigh, NC. That's right, our cornhole, Ladder Golf and tumbling blocks (like Jenga) are all manufactured here in the Triangle.
We have a great selection of games. From Giant Connect Four, to Spikeball, to party classics like Ladder Golf and Bocce Ball, we make it easy to give your next event an enjoyable element of fun. Try a game you have never played, and just let the day go where it may.
You can contact us easily. Our phone number is (919) 891-3495. Give us a call at if you have questions on ordering, availability, or pricing.
Whether you are looking to improve a tailgate party, a corporate event or wedding, or just want to entertain your weird cousins who invited themselves for the weekend, we make it easy and cheap to get your hands on lawn games in the Triangle and beyond.
Livin' The Lawn Game Life
It's mid-September, football season has started, and nothing is going to get in the way of Americans watching football on Saturdays and Sundays. With football comes the time-honored tradition of tailgating. This is the art of setting up a perimeter, tables, chairs,...