TowerBall Rental & Rules
Add some fun to any party!
TowerBall is a fun, compact game that offers several ways to play, reminiscent of some of the classic basketball shooting games.
Triangle Lawn Games is the nation's leading lawn games provider. 
We also offer delivery + pickup. Check out our pricing on the order page to find a location near you.
THE TLG RULEBOOK
TOWERBALL
2-8+ Players


10-20 Minutes per Game


10 ft. length, 5 ft. width
HOW TO PLAY: CLASSIC
Pick teams of 1-4 players and line up each team 10 feet from the side of the tower with one hole. Each team gets 4 throws at Side 1, scoring 1 point for each time they get the ball through the hole.
After each team has finished their throws, move – or, if space is limited, rotate the tower – to the next side. This time each successful throw scores 2 points.
Repeat for sides 3 and 4. The player or team with the highest score after the fourth side wins. In case of a tie, the winner is determined by sudden death.
HOW TO PLAY: AROUND THE TOWER
Pick teams of 1-4 players and line up each team 10 feet from the side of the tower with one hole. Each team gets 4 throws per turn to advance as far as possible.
A team may advance to the next side by making a shot into every hole on a given side. At the start of each turn, whichever team has advanced the furthest goes first. Once a team has advanced around all four sides of the tower, they must make a shot into the top of the tower to win. The losing team(s) has the opportunity for "rebuttal", advancing as far as possible until they miss a shot.
In the event of a tie, winner is determined by sudden death shooting on the top of the tower.
HOW TO PLAY: H-O-R-S-E
Take turn calling shots, e.g. "by the Fur Tree, top hole Side 2". If they make it in a predetermined number of attempts, other plays attempt to make the same shot. Other players then must make the same shot, receiving a letter of the word HORSE if they miss. Players are eliminated if they spell out the full word; last player to survive wins.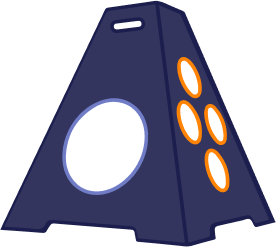 NERF PARTY STRATEGIES
Trying to run your own NERF Party? Check out our guide built to help you manage a NERF day for maximum fun!

We're happy you found us! We enjoy providing yard game rentals to families, businesses and communities across the US. Please select your location from the dropdown below.
CORNHOLE TOURNAMENT STRATEGIES
Want the scoop on running an awesome cornhole tournament? Check out our guide to get the bags flying like a pro.

Looking to Purchase Games?
Take a look at some great products we have available for sale (we can ship anywhere).
The basics to renting with us:
We would be happy to bring your games to you, and come pick them up. That service starts at $25 for both pick and delivery and goes up depending on distance.

 

Take a look at our delivery zones on our order page

 

and begin your booking.
We make our games here in Raleigh, NC.

 

That's right, our cornhole, Ladder Golf and tumbling blocks (like Jenga) are all manufactured here in the Triangle.
We have a great selection of games. From

 

Giant Connect Four, to

 

Spikeball, to party classics like

 

Ladder Golf

 

and

 

Bocce Ball, we make it easy to give your next event an enjoyable element of fun. Try a game you have never played, and just let the day go where it may.
You can contact us easily. Our phone number is (919) 891-3495. Give us a call at if you have questions on ordering, availability, or pricing.
Whether you are looking to improve a tailgate party, a corporate event or wedding, or just want to entertain your weird cousins who invited themselves for the weekend, we make it easy and cheap to get your hands on lawn games in the Triangle and beyond.